Does your company have a strong commitment to Colorado communities?
You should be part of B:CIVIC!
Please join us for our first Mindful Mixer to learn more about who we are, the programs we offer, and the benefits this exciting, rapidly growing organization offers to its members. B:CIVIC members include 100+ companies of all sizes actively engaged in doing good and running profitable businesses.
As a special bonus, you'll get to tour one of the newest collaborative office spaces in town – INDUSTRY Denver. This event is on tax day so join us at Will Call for some well-deserved relief, have an adult beverage and meet B:CIVIC founders.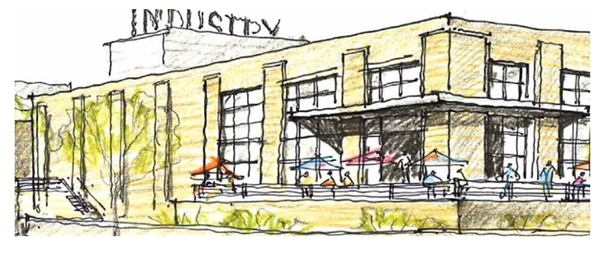 Drinks at the Mindful Mixer + INDUSTRY Tour are complimentary for guests who RSVP in advance. Please share this invitation with other companies you know that might be interested!
Questions about this event or B:CIVIC membership? Please contact us at info@bcivic.org.

With a steadfast commitment to good corporate citizenship that includes community investment, global diversity and inclusion, global giving, commitment to environment and pro bono services, Hogan Lovells sets an international example for law firms of every size.
Highlights from the Hogan Lovells' 2013 Citizen Report include:
122,220 hours of pro bono work provided to nongovernmental organizations, individuals, nonprofits and social enterprises.
$518,200 raised for global and local charity partners
1,590 children reached by the company's community investment activities
18% decrease in the cases of copy paper ordered in 2012.
Read more on the incredible impact Hogan Lovells has had on the world in its sustainability report and learn more about their ongoing efforts to give back here. The company's website also features a blog that shares the good deeds its offices provide to the world, divided by region.
Hogan Lovells' Denver office is a founding member of B:CIVIC, and we are so proud to have them as part of our growing organization! Learn more about the international law firm at www.hoganlovells.com.
Do you have a story you'd like featured in B:CIVIC's Member Spotlight? Please fill out the Share Your Story form.
We're excited to announce a great opportunity for B:CIVIC Members! The Corporate Community Investment Network (CCIN), a long-standing peer network for professionals tasked with making a positive impact on communities on behalf of their companies in a for-profit business setting will now be managed by B:CIVIC. Joyce Witte of Founding Board Member Encana started CCIN, and the network has held regular meetings every other month for years. The role of CCIN is to provide a confidential forum to share and discuss best and worst practices, engage in peer networking, encourage personal development and share resources to enhance the CI profession.
CCIN has now transitioned to serve as a B:CIVIC Affinity Group and will continue as a corporate funders peer group. The first meeting will take place next month.
Interested in joining? There are a few qualifiers your business has to meet.
CCIN Eligibility:
You must be employed by a for-profit company, perform a community investment (CI) role and have influence over a CI budget.

The budget must include an allocation by the company directed to corporate grants, employee volunteerism, employee matching gifts, or in-kind products or services.

CCIN is not a forum for fundraising or solicitation, and is closed to non-profit organizations.

To participate, you are required to sign a confidentiality agreement.
Please note that other B:CIVIC Affinity Groups (such as for small businesses and companies just starting a community investment program) are under development and will be announced shortly.
CCIN February Meeting
Date: Wednesday, February 11, 2015
Time: 8:00 – 9:30 am
Location: Petroleum Room 1, Denver Athletic Club, 1325 Glenarm Place, Denver, CO 80204
Cost: FREE (February Breakfast is sponsored by Western Union)